New
DiveFilmHD podcast episode 33
just released features more great Canon 5D footage--this time in a wonderful new short film by Christian Fries (mexwell) called "Aquarium" filmed in West Sweden. And this is no ordinary trip to the aquarium!
Rick Morris's "What's Down There," a short film on the marine census, is
HD podcast episode 32
. This film is an official selection at this year's upcoming
San Diego UnderSea Film Exhibition
, and includes some really tiny critters.
Please check out the new
episodes at iTunes
and help keep these HD podcasts featured!
Here's from a screen grab from "Aquarium" shot with the Canon 5D: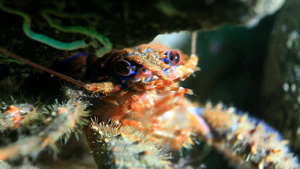 Enjoy!
Mary Lynn