At Las Vegas's CES Panasonic displayed an upcoming GH-4K. (Actually it was just a GH3 with a 4K sticker).
Nobody knows if the new model will have the same GH3 body or not...
Rumors sites write that it will be launched officially on 7th February. So just this friday
Anyway these are the rumored specs until now:
High speed 16Mp sensor
2.36Mp OLED EVF
peaking
4K 200Mbps mode
1080p120
422 recording
Panasonic announced also a new SD card expressely made to cope with 4K: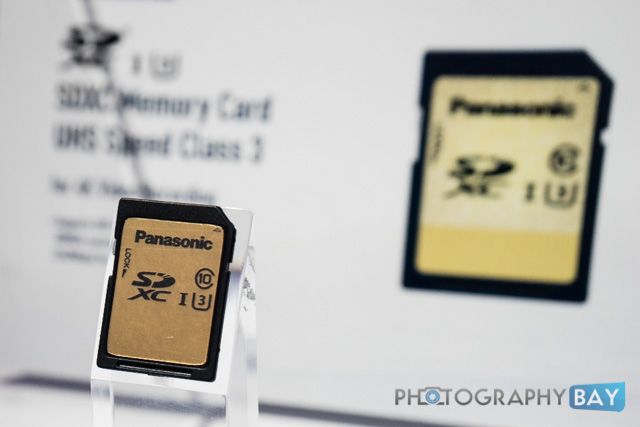 A second round of rumors add few more specs:
   There is an attachable XLR adapter
    H264 codec all intra that give 422 color all intra in 100 mbps.
    it will be switch-able from 4K and 1080P with various frame rates (can shoot 120fps at 1080P for example)
Last but not the least: price less than 2000USD
Someone suggested that the new camera will use the new LSI developed from Pana with its codec AVC-ULTRA:
http://pro-av.panaso...view_rev1.0.pdf



 

AVC-ULTRA Overview, rev 1.0

Expanding business opportunities with unified codec

Panasonic has developed a new LSI codec engine to perform a variety of encoding/decoding processes defined in the AVC-ULTRA codec. Figure 12 shows the appearance of the LSI and the photo of the LSI chip. The codec engine supports H.264/AVC profiles for professional applications, "CAVLC 4:4:4 Intra", "High 4:2:2 Intra", "High 10 Intra", and "High 4:2:2", up to Level 5.2 for 4K. This codec engine also has the ability to encode/decode the conventional DVCPRO codec family as well as the newly developed AVC-ULTRA. Incorporating the codec processor chip and high speed memory chips all within a single small package increases reliability and greatly reduces power consumption..


This new codec engine unifies AVC-Intra, AVC-LongG and AVC-Proxy and also supports from HD to 4K formats. An AVC-ULTRA product implementing this engine can support many formats and can be expanded by upgrading. Users can select optimum video formats and codec schemes depending on their target applications, workflow, and estimated budgets for production and it expands their business opportunity with minimum investments.

 
Will see in few days what's true on this little monster.
Via http://www.43rumors.com/?s=GH4k
Edited by Davide DB, 05 February 2014 - 01:59 AM.