An Intimate Look at the Florida Manatee
This is a long post with lots of photos for those so inclined. ☺
On Xmas Eve I posted a series called "Peace on Earth and Goodwill Toward Manatees". Since then I've had the good fortune to encounter the wonderful creatures, again numerous times. It has been a good year for observing manatee just north of where I live, in Crystal River, Florida. Lots of short "cold snaps" have brought record numbers of manatee in to the springs of Crystal River.
Unfortunately my joy of seeing so many manatee and optimism about their future was tempered by two headlines in our two major newspapers last Saturday, January 21st:
http://www.sptimes.c...bel_in_do.shtml
http://www.tampatrib...GB5ANKGPIE.html
Numerous replies and "editorials" have been published since then, here are recent ones; two of note, one from our Tampa Bay area, one from Daytona Beach:
http://www.sptimes.c...ed_status.shtml
http://www.news-jour...OPN80012706.htm
Here is information and a definite way in which we can help:
1) Flood Florida Gov Jeb Bush with emails/letters/phone calls re: you concern with the potential "downlisting" of the Florida Manatee on the Endangered Species List. This "downlisting" is proposed just for the state level, because of a "rewording" of the criteria for listing species on the state's Endangered Species List. It is not due to a sustainable recovery on the part of the Florida Manatee, in fact manatee deaths were at a second to all time high for 2005. The articles referenced give full-details FYI. The manatee may still be listed as endangered on the federal level, but this will not help with "state level" boating speed zones in manatee habitats, development and dock permits meant to help the manatee, its feeding and resting areas. I believe even emails from out-of-state are valuable as it shows the people all over the nation are concerned about the way Florida is "protecting" (or "not protecting") the nation's only large population of this sub-species of the West Indian Manatee.
You can email Jeb Bush at:
fl_governor@eog.state.fl.us
Or use the "quick" form letter with additional comments at the 'Save the Manatee' Org Website, link here:
http://www.savethema...alert.cfm?id=12
2) Learn more about manatees, here are some fascinating facts and links:
Listen to Jimmy Buffett's plea for the Florida Manatee:
http://www.savethema...Buffett PSA.mpg
Listen to vocalizations of the Florida Manatee:
http://www.savethema...e.org/audio.htm
3) Come meet manatee for yourselves in Crystal and Homosassa Rivers, about one and one-half hours north of Tampa/Clearwater, West Coast of Florida. Best time is in the winter, during the week, on clear and cool and sunny days, very early in the morning.
Also it is my hope that these pictures I have taken recently will shed some light on the very sensitive nature of these docile marine mammals. A few of the photographs show quite intimate "love-play" behavior. Originally I wasn't going to post them due to "content" but after the recent newspaper articles I thought just maybe it would strike a cord in some people and help us see that they are not so unlike us as very sensitive and tactile creatures. Can you imagine what it must feel like when a boat propeller slices their skin? They say manatee skin is tough, but with the level of feeling displayed by some of the photographs I took the manatee must feel tremendous pain when impacted.
Some of these pictures I consider good. Some are not so good, but tell part of the whole story. Also be aware, you will not see lots of other "snorkelers" in my photos. That is because I go during the week, at sunup; it makes all the difference, few people and lots of manatee. At that time I believe the manatee are less stressed with fewer people in the water and display more natural behaviors (and also tend to ignore me more while I'm photographing them). No manatees were interrupted from feeding, breeding activities or mother/calf relationships in these photographs. It is illegal to harm or harass a manatee. If you come to Crystal River I suggest you go out with one of the professional operators such as Bird's Underwater:
http://www.birdsunderwater.com/
Their captains will be in the water with you and make sure the manatees aren't stressed and the encounters are for mutual benefit. Plus no boats get there earlier than Bird's.
Manatee are just loads of fun, this one is doing a "barrel roll" over me as I photo him at Three Sister's Spring, Crystal River, Florida:
This is the intimate nursing behaivor, the strong female/calf bond that can last two or three years: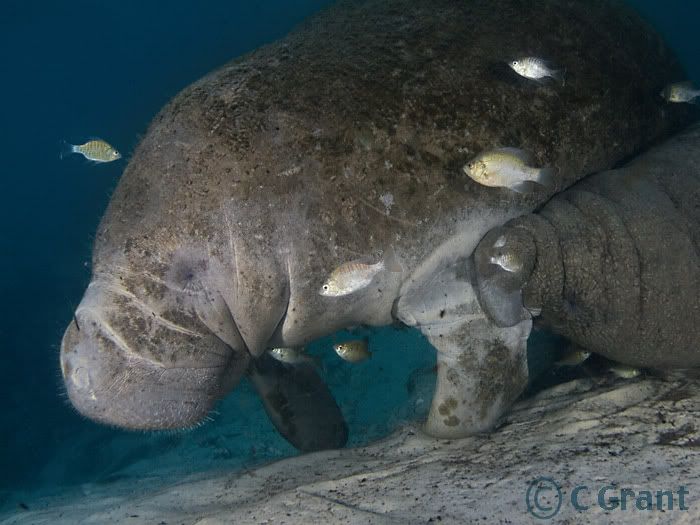 This is a manatee looking for something to eat. They prefer sea grasses and water-plants but will make do with any vegetation that is around, food is not abundant at these springs, that is why the manatee will forage out in richer waters as soon as the water warms, they are very hypothermic (like us!):
This is a behavior I hadn't seen before, yes it woke me up in that early am!
It is two adolescents (male under/female over) in "love-play" behavior. It clearly shows what sensitive creatures they are, again no so unlike us.......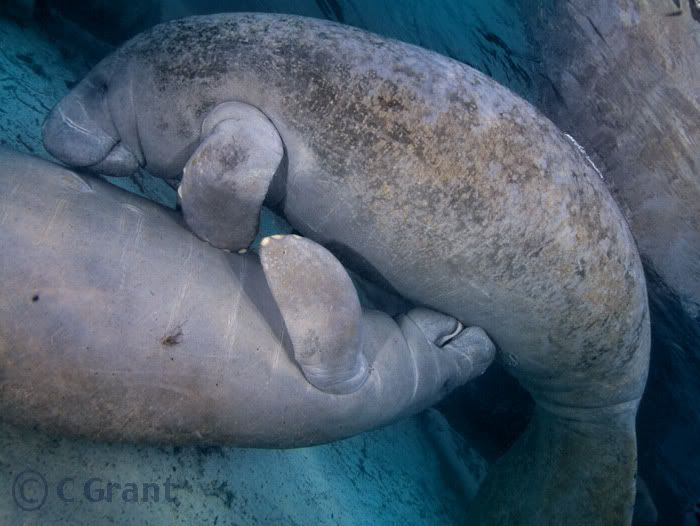 Love-play again, female sex organs are near her tail, the male's are more near his "belly-button".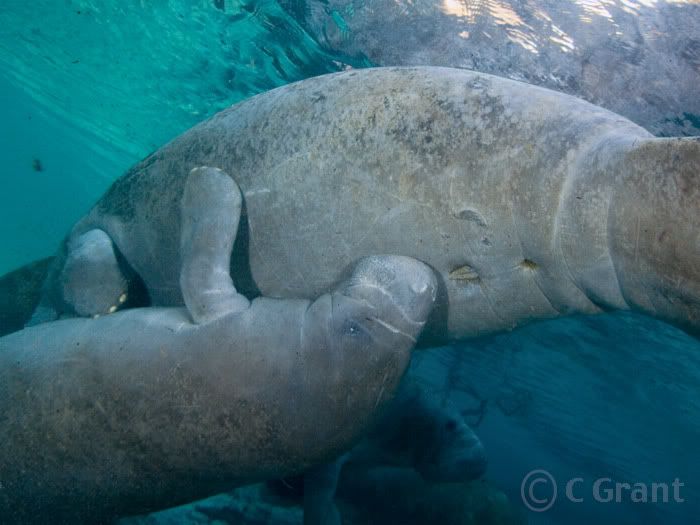 Of Note: I did not disturb these manatee in any way from their behavior, they seemed to completely ignore me.........
Manatee resumed love-play, or 'let's try that again....'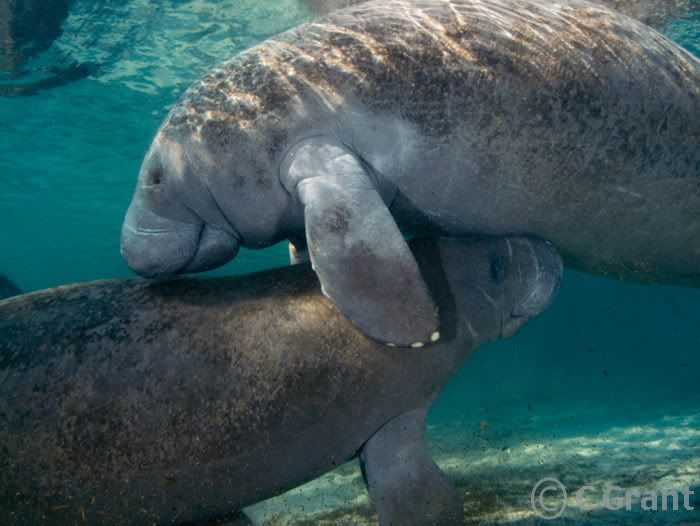 And again........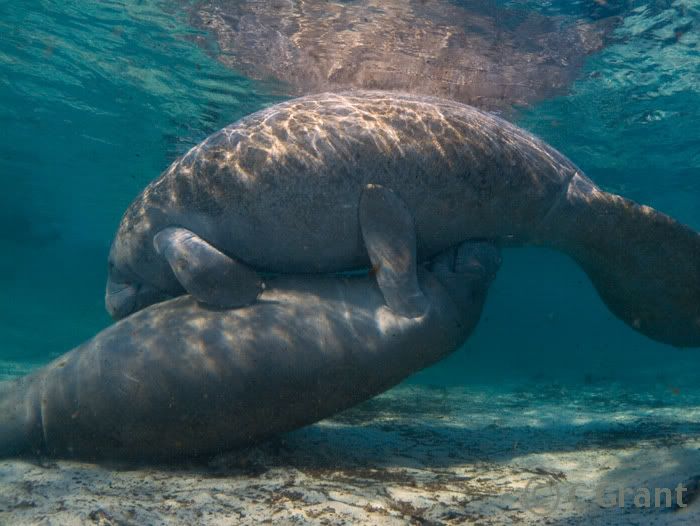 Finally a break, adult manatee taking a breath:
What could be better than a look from this sweet button-eyed creature, rainbows too!!!!!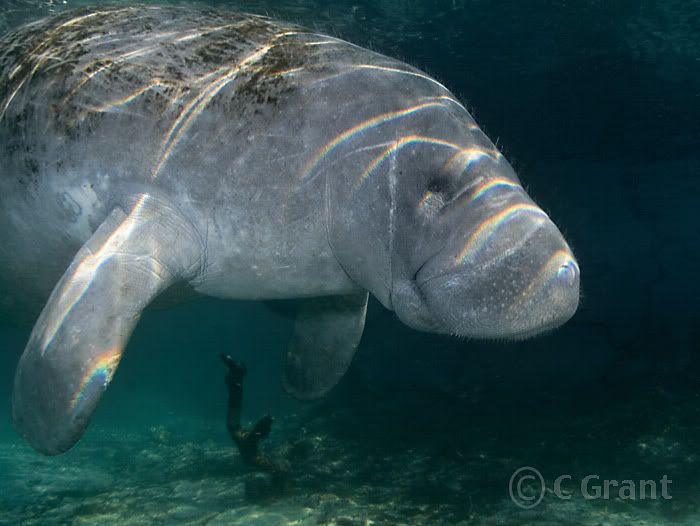 Sometimes they will "plead" with you, they just can't quite reach that "itch"... (again very much like us!):
I hope you enjoyed and were enlightened and educated by these photos. I have some more of manatee injuries that are sobering, I'll post those in another post. Please help the Florida Manatee survive!
Best, Carol