I thought some of you all might be interested in the numerous large groups of near one hundred and more of the atlantic longfin squid (Loligo pealei), that are being seen here by divers off Clearwater, FL.
Because I am so very behind at most things at this time I'm going to copy an email I sent out and paste it below with info on these unusual sightings.
More data on our Gulf to follow soon as I'm involved in Gulf Recovery Surveys in conjunction with REEF, the Florida Aquarium and others. For those of you who don't know, our Gulf off Clearwater here, and parts north and south in places out to 30 miles offshore suffered the worst red-tide in recent memory last year, 2005. Usually the red tides don't hit us badly as far north as Clearwater, but '05 was a tragic year for many of us, including here on the Gulf Coast of Florida, where we had many (over 100 in one week alone, including a couple of female Kemp's Ridley critically-endangered turtles that week), female nesting turtles who had to swim through the red tide wash up dead on our beaches. Also most likely all of the turtle hatchlings from last year didn't make it, plus the red tide claimed many dolphin, manatee, fish that couldn't outrun it and pretty much all of our sponges, crustations and slugs (don't cringe Leslie, we had a bunch, but none now, until they return...), and even some of our previously very healthy hard corals died. This red tide hit throughout the water column due to a quirky thermocline that it got caught under and spread along the bottom, then throughout the water column, creating a "dead zone" in some areas. (And that was a tragedy cause pre-red-tide '05 I used to see in excess of 100 large gag grouper and 12 huge, endangered goliath grouper at some of the sites hardest-hit).
But it is extremely interesting observing what is coming back in our Gulf!!! A rare experience to see what life returns and is first! These squid are one anomaly, we NEVER see these large groups of them, especially as divers!!
Hope you find the email and pics interesting. I can't stress how rare it is for scuba divers to get to see and photo these squid, most likely the were in the early stages of mating when I took these pics. These aren't like the squid in California that come to one spot to mate. The atlantic longfin squid is very hard to catch mating and as far as I know only several (3?) researchers have actually witnessed the mating activity off the New England Coast. And as I understand it they netted a group of the squid and then videoed it mating while on scuba.
More info here:
"I've sent or cc'ed this to those I thought might be interested in developments in our "red-tide-05" ravaged Gulf here off Clearwater, Florida.
Fortunately Joe at REEF did his thesis on the longfin squid (Loligo pealei) and has given me some insight on just how unusual it is to run into large groups of these just out in the open as a diver.
Of note, yes we do see the longfin squid offshore here in the spring from time to time, but from what I've been told we usually see only very small groups, maybe 5 or so individuals and they are not seen often, maybe someone will see one small group once during the spring. This year throughout the first part of April many scuba divers were seeing groups of these longfin squid, numbering 75 to 100 individuals and more, at many of the dive sites off Clearwater. The sites they were seen at were from 8 to 15 miles offshore at both natural limestone ledges and artificial sites. My photos only show a few together, but if you look you can make out some more shadows in the background, plus they tended to "split-up" when I got close to photo, then re-joined as a large group when I moved off.
I saw these large groups of squid on three occasions and I tried to get out more but was unfortunately blown out. These photos were taken on April 15th, in the afternoon at Indian Shores Artificial, appx 11 miles off Clearwater, but there was an even larger group later in the afternoon on a natural ledge, about 8 miles offshore.
Plus I've gotten it from good sources that the fishermen are commenting that the grouper they have been catching have their stomachs full of these squid.
We have theorized as to why so many longfin squid, rather close inshore (for us), this year? I did note that there were almost no "predator" fish at the sites where these squid were seen, there usually would have been "predator" type fish there but because of last year's devastating red-tide it is taking some time for fish to return. Also it is possible that the longfin squid's food-source is coming further inshore and is more abundant for some reason. Note, the photos show algae. Yes this is a seasonal algae we get here and it should be gone in a couple of weeks, even with that viz has been excellent (80 feet), if you can look through the algae. I thought we had more algae than previous years but was told that it is actually normal amounts and will die off soon.
I'll have more pics to follow, including damage to our hard corals and some growth that has survived, etc."
Best, Carol Grant
REEF AAT/NOAA Scientific Diver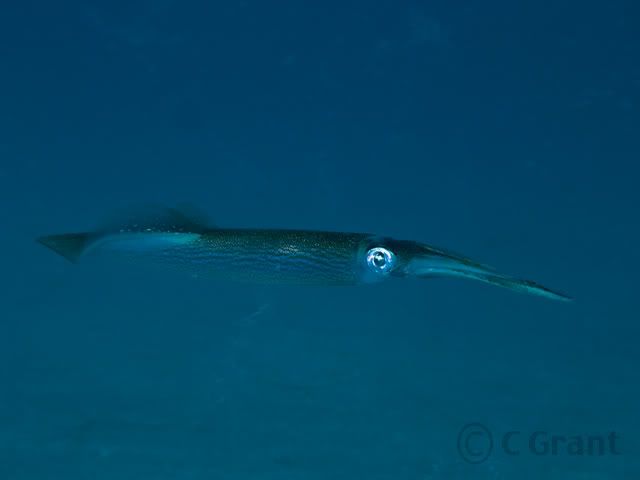 These squid are much, much harder to get close to than caribbean reef squid!
I never saw them "resting near the bottom" as the Reef Creature book states, they
were always swimming actively in groups. And once I even saw them before noon
swimming, so it wasn't just cause it was late in the day.
I'm told the "white-patches" may have some significance. These pictured here were
the larger and longer ones that would sometimes break off from the grouping of the
larger ones and swim next to a smaller squid and yes they did change coloration from
light to dark again and again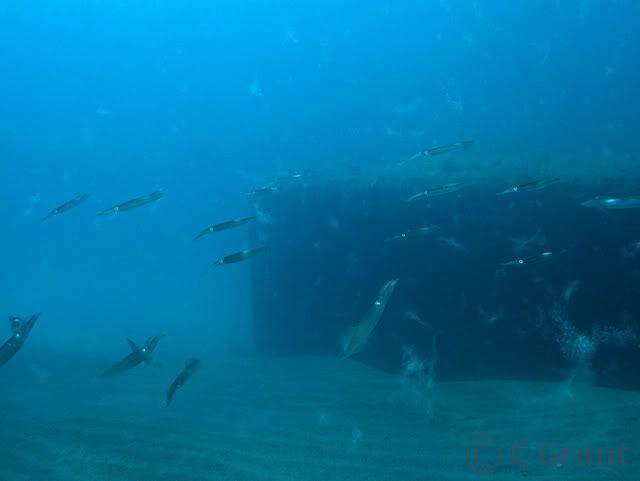 Shows a little larger chunk of the actual 100 or so grouping near an upside-down barge, appx 11 miles off Clearwater.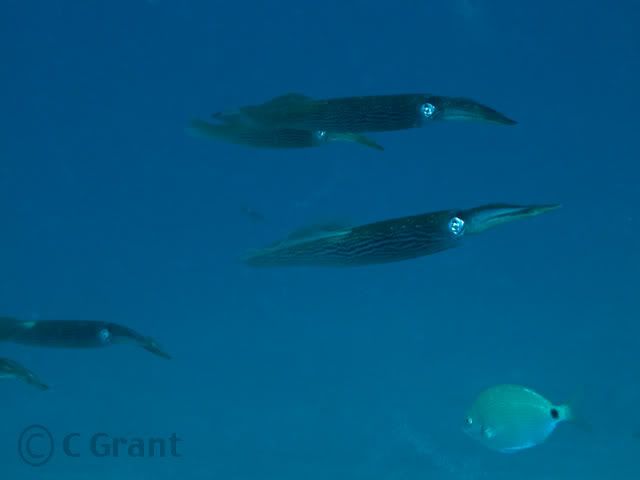 And a spottail pinfish for size, he was about 8 inches.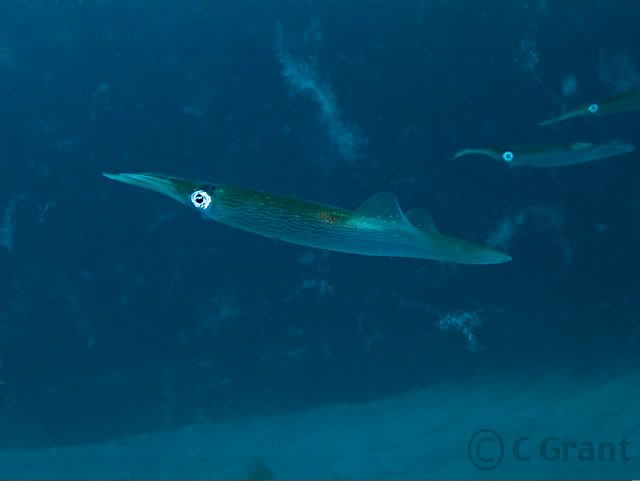 The algae is quite thick in spots but may be one reason the squid are here??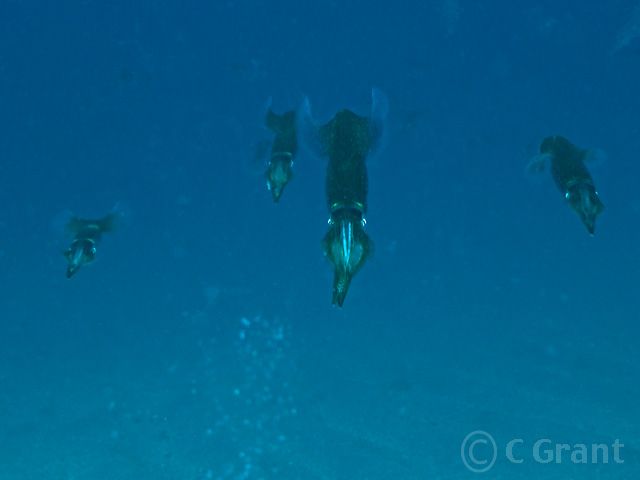 longfin_squid_front_email