Ambon / Raja Ampat Documentation Expedition
December 1 - December 18, 2009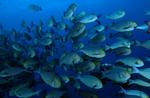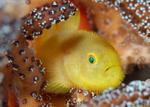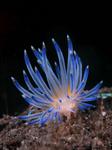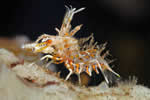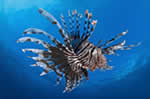 Overview
For many years,
ReefNet
has conducted private expeditions throughout the world's tropical waters to document rare marine life. For the first time in 15 years, we've decided to open
selected expeditions
to the public.
ReefNet Dive Expeditions are
intensive photo/video trips in search of new species
. In order to give us the best chance to find something new, each expedition targets a hotspot of marine biodiversity. Furthermore, because we charter our own dive services, we have the freedom to visit both unexplored sites as well as trusted favorites.
If you'd like to
contribute to our projects
, to learn more about marine life and underwater photography, or just to join for the fun, consider signing up for one of our
upcoming expeditions
!
Objectives
The primary goal of every ReefNet Dive Expedition is to
find and photograph new marine life
. The photos and video collected on each expedition are added to our vast database and form the basis of our
interactive field guides
. By joining a ReefNet Dive Expedition and (optionally) contributing your work, you may even
have your images and/or video published
!
Another feature of every expedition is the
educational experience
. During each trip, the expedition leader(s) offer informal seminars on a range of topics which may include: marine life identification, marine life behaviour, underwater photography and videography. Each evening, you may participate in the daily review of photographs and video. It is during this review that we most frequently make our discoveries...perhaps even a new species or two!
Although ReefNet Dive Expeditions are working trips for the expedition leader(s), they are nothing but
pleasure
for you as a guest. You are equally welcome to participate with us and to contribute to our projects, or merely to sit back, dive, and enjoy the added value of our educational seminars. Either way, the trip will be unforgettable.
Expedition Summary
This
18-day expedition
is a spectacular
land- and sea-based
diving adventure. It starts with eight days of muck diving in
Ambon
with
Maluku Divers
, followed by a nine day trek aboard the
Archipelago Adventurer II
through the undisputed heart of marine biodiversity:
Raja Ampat
.
Visit the most vibrant reefs on the planet on this expedition, including those on which Dr. Gerald Allen made his record-setting fish counts...
up to 284 species on a single dive!
Although you may elect to join just one part of the expedition, we've designed the two itineraries to complement one another. We hope you will take advantage of the opportunity to dive both regions with us!
Contact Information
For more information or to make a reservation,
contact ReefNet
.
Edited by reefnet, 27 December 2008 - 12:52 PM.