Hello All,
Just a reminder that the deadline for entries for the 10th Annual San Diego UnderSea Film Exhibition, is July 15th, 2009!
This year's San Diego UnderSea Film Exhibition is scheduled for Friday and Saturday evenings, September 11th & 12th, 2009 at the beautiful Qualcomm Hall in the Sorrento Valley area of San Diego, CA.
No entry fees, no prizes. Just the pleasure of having your film selected and shown in an incredible state-of-the-art high def venue to a very appreciative audience.
Learn More about
Entry Guidelines Here
.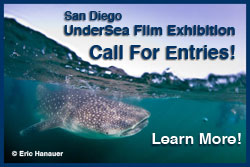 If you have any questions please contact:
Eric Hanauer at ehanauer@san.rr.com
or Chuck Nicklin at uwchuck@san.rr.com
Hope to see you in San Diego in September!
Mary Lynn