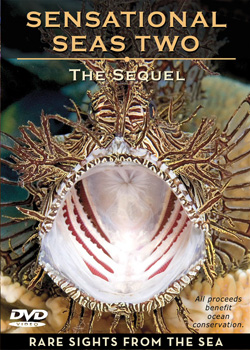 The new Sensational Seas Two DVD trailer is now available as a free
DiveFilm HD Podcast
at iTunes! The two-minute preview showcases some of the fun-filled underwater images from the Sensational Seas Two DVD production. The trailer is also available for viewing by visiting
SensationalSeas.com
.
"
Sensational Seas Two
is a grand tour of watery realms as far-flung as Antarctica, Australia, the Andaman Sea and Georgia Aquarium. Expect the unexpected, come face-to-face with the gentlest of giants, rolling octopus, spawning frogfish, a snorkeling elephant, and tiny plankton that epitomize the grandeur of nature's artistic flair. It makes you want to go diving!" exclaims Ned DeLoach, contributor and editor.
Sensational Seas Two
will premiere highlights at
Beneath the Sea International Film Festival
on Saturday night March 27th. A seminar on Sunday March 28th will feature additional clips from the production. The DVD will be
available for purchase
on April 1, 2010 in eco-friendly packaging, recycled paper stock and soy-ink printing.
Funding for Sensational Seas Two is provided by the Carrow Foundation, and all proceeds will directly benefit
REEF
(Reef Environmental Education Foundation), Beneath the Sea's
Ocean Pals Program
and the
ASIAN Geographic Society's Anti Shark Finning campaign
.
About the Production: Co-Producers Nancy McGee and Anna DeLoach; Art Director and screen writer William Warmus; DVD author Kris Wilk; Narrators Stan Waterman and Annie Crawley. Supporting partners are the Carrow Foundation,
Gates Underwater Products
,
Wetpixel
,
Beneath the Sea
,
Scuba Diver AustralAsia Magazine
and
New World Publications
.
About
New World Publications
: First published in 1989 the Caribbean Reef ID books set a new standard in marine life recognition, and firmly established co-authors Paul Humann and Ned DeLoach as quality photographers and keen behaviorists.
New World Publications
has since grown to be a premiere source of educational materials about the ocean realm. For further information visit www.FishID.com.
Founded in 2000 by video journalist
Mary Lynn Price
,
DiveFilm.com
was one of the first websites dedicated to streaming underwater video on the Internet. In 2005 the first podcast of underwater video to be featured at iTunes, DiveFilm Podcast Video was launched, followed in 2007 by the first High Definition podcast of underwater video to be featured at iTunes.
DiveFilm HD Podcasts
are produced in association with
Wetpixel.com
.