I have not been able to go on any dive trips for the last few years and I have decided to sell my underwater camera gear. This is a complete system with everything you need to take fantastic underwater pictures with full TTL using dual YS-110 stobes. The system looks and functions like new. It has only been used on 3 dive trips and was well taken care of and maintained.
Here is a list of what is included in this setup:
•Nikon D200 Body - (2 of them, one for backup) - Very low actuator count and still like new with batteries.
•Battery Grip - This is for land use only, but very useful to have.
•Subal ND20 Housing with factory installed Magnified Viewfinder. Wired for TTL signals to be used with the Sea & Sea TTL Converter.
•Macro port with Focus Ring
•60mm Nikon Macro 2.8 lens
•Sea & Sea TTL Converter
•Sea & Sea YS-110 (2 of them for better coverage)
•Sea & Sea Sync Cables
•ULCS 12" Buoyancy Arm (4 of them gives two for each side and maximum flexibility)
•ULCS Connectors (6)
When I purchased this sytem new, it was well over $10,000 for everything. I am looking for best offers. I would like to keep it as a set unless somone wants to buy only the housing first, then I can sell the other items separately. I also have a Subal glass dome, 12-24mm Nikon lens, 10mm Nikon Lens, extension, and a Subal Diopter for additional Macro Lens magnification available separately.
PM me with your best offer and/or questions.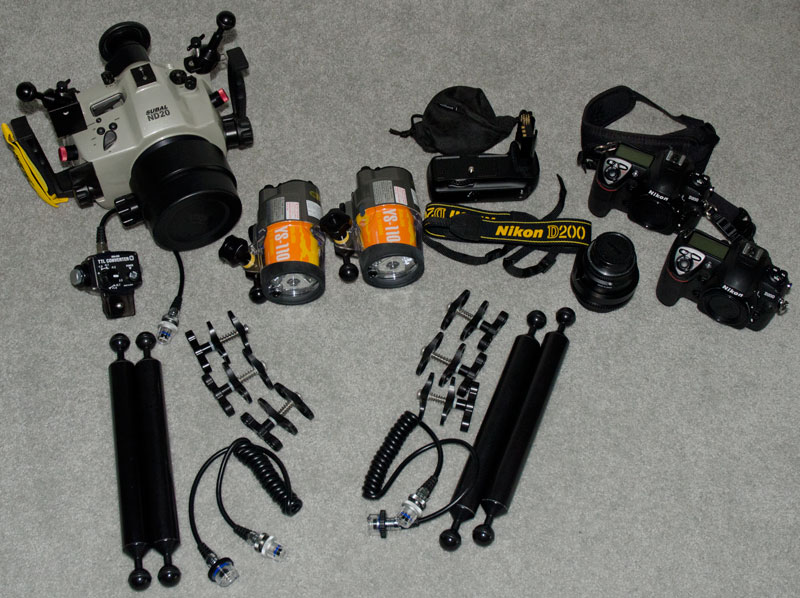 Links to closeups:
Overview
Housing Top
Housing Back
Housing Front
TTL Converter
Stobes
D200 Cameras