12th Annual Underwater Photo Workshop & Contest
July 13-20, 2013
 
  

We've been running workshops for many years and this one will be the biggest and best of them all with lots of fun, prizes, photo pros and surprises! Here's your chance to get all your questions answered and improve your underwater photography skills.
Everybody is bringing cameras to capture the beautiful reefs of Cozumel. This workshop is designed to show you how to use your digital camera and get the best shots possible when shooting underwater. No camera is too big or too small! Not only is this workshop a lot of fun, but you'll learn all about how to improve your underwater photography by shooting better and improving on what you've captured by using Adobe Photoshop.
Your instructor and host is Bonnie Pelnar. Bonnie has made 36 trips to Cozumel and she knows where and how to find the best Cozumel has to offer and can show you how to capture it with your camera. Scuba Club Cozumel offers FREE unlimited shore diving, day and night. The area in front of SCC is the BEST shore diving in Cozumel. Cozumel muck diving at its finest!
In addition to the presentations and seminars, Bonnie will be available to dive with you each day. We will set up a special photographer's boat, so if you wish to dive with the rest of the shooters, you are welcome to come along. At the end of the week we'll be having a photo contest with an awards ceremony and prizes!
A deposit of $100 holds your reservation and spot in the workshop.
     
This year will be our biggest and best yet, with great prizes, photo pros, demo gear and more! 
  
  For complete info visit Under Watercolours
 
This year we have also added a second week with Adobe guru, Jack Davis. Come for one or join them both. More info here.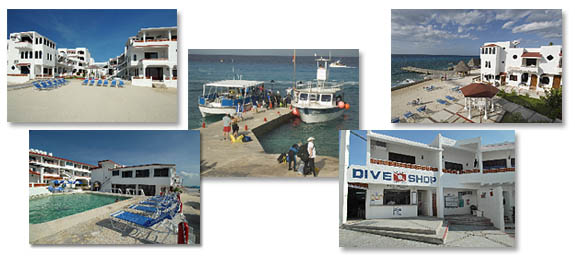 Here is what some of our past workshop attendees had to say...
  
"This was one of the best dive trips I have ever  done. Bonnie seems to have the perfect formula mix of having fun as  well as serious underwater photography instruction for those wanting to  improve their uw images. I had just bought a new housing for my digital camera and Bonnie patiently answered my numerous questions on the new  rig. She also shared her vast knowledge freely with the participants. I  plan on doing future UW Photography Workshops with Bonnie."    
                     
                            Ellen - Portland, Oregon
                    
"Bonnie is a great teacher. She's very patient and  knows her stuff. Everyone came away with great new tools for  photography. I especially liked her Photoshop classes."

                            Andrea - Laguna Niguel, California
                    
"We had a marvelous time at Scuba Club Cozumel with Bonnie last February. I can't wait to go again! She has great tips for getting the  best presentation from my underwater photos. Besides, it's PARTY TIME whenever Bonnie is around, ha!"                    
                            Helena - Mammoth Lakes, California
                    
"Just when the vacation began to wear off and I started to get back into the swing of reality I received a DVD in the mail from Bonnie. It was a collection of photos from our workshop trip. It brought tears t0  my eyes. Some were tears of laughter, others were from the great memories of all the new friends I made while on board the Solmar V. Who knew learning could be so much fun?"
                            Marj - San Jose
  
                      Trip report from a previous Underwater Photography Workshop at Scuba Club Cozumel
Edited by underwatercolours, 16 March 2013 - 07:16 AM.