Hello,
I'm doing a research about Underwater Photogrammetry, concerning the calibration of cameras for underwater measurements. I'm not a underwater photographer and I'm having trouble to find technical info about underwater ports and wet lenses. This is the reason that I'm posting in this forum, I hope someone with more underwater photography experience could point me to the right direction.
Divers use to say that there are a magnification factor of 1.33 inside water, but the distortion is not that simple. If you want to make accurate measurement underwater you need to calibrate the camera. The air camera model is well know, but underwater, due to the refraction index change, there are some effects that are not very simple to model. The paper Flat Refractive Geometry [1] makes clear that the underwater distortion in flat ports "creates 3D distortions which are not a 2D (radial) mapping of coordinates". The figure below illustrates it.
A scene imaged by a camera looking into an aquarium, empty (top) and full with water (bottom). On the right side, the red stick in the air is
seen as a fence in water. On the left side, a shark is suddenly apparent. Figure 6 from [1].
In the book: Non-Topographic Photogrammetry (1989) [2] I've found that dome ports reduce this refraction problem. But distortions are still present. In the same book it describes a fully corrective port, meaning that the camera see objects as it were in the air. It refers to the Rebikoff Ivanoff lens (1960). Using this kind of port, the air camera model would still be valid, making things much easier.
The best I could find in google is the original article from 1960 "Correcting Lenses for Underwater Use" (I've no access to it) and this link with an image of it:
Rebikoff-Ivanoff correction lens. From [4].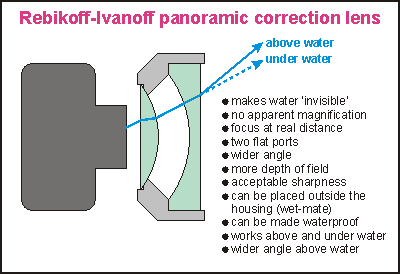 It is odd that there is no recent paper talking about this fully corrective lens or an improved version of it!! At [1], the authors says that the alignment of the lens is very tite, but [2] says that the position of the air lens in relation to the corrective port can vary several milliliters.
Questions:
Why it is so hard to find information about this fully corrective lens? 
Are the actual wet lenses fully corrective and/or there are correction lens to use in combination with air lenses?
Anyone know about some recent book or paper about wet lens and/or underwater ports?
References:
[1] Treibitz, T., Schechner, Y., Kunz, C., & Singh, H. (2012). Flat Refractive Geometry. IEEE transactions on pattern analysis and machine intelligence, 34(1), 51–65. doi:10.1109/TPAMI.2011.105
[2] Karara, H. M.; Newton, I. (1989). Non-Topographic Photogrammetry (p. 445). Asprs Pubns; 2 Sub edition.
[3] A. Ivanoff1 and Paul Cherney (1960). Correcting Lenses for Underwater Use.
[4] Website Seafriends. Rebikoff-Ivanoff correction lens.