So, I just got back from a month in Indonesia. My trip was in two parts. The first half of the trip was in Lembeh Straits on the Island of Sulawesi and the second half of the trip was in Cenderawasih Bay in West Papua. I have only JUST looked at a few of my photos and have put none of them through any photoshop, yet. I got pretty sick after getting home and am just now getting up to speed.
I will start with Sulawesi and a few of the many photos from there.
We did some land touring for several days before settling in for our diving. We went to a nature preserve to see the world's smallest primate, the trasier. You had to go out at night, as they are nocturnal. We went in the wee hours of the morning, just before they went back to the trees they slumber in during the day. We saw quite a few of them.
]
Just after dawn I stalked within sight of an amazing kingfisher
I love Sulawesi and really enjoy watching the bindis trot around the city. The heavyset lady in the back almost picked this pony off the ground.
A quick stop on the market for some "rat-on-a-stick"
Then, on to the diving in the Strait. The only place I stay, these days, is Kasawari Resort. I just love this place. Elegant rooms, great food. and good diving. They have a fabulous camera room!!
The diving was predictably wonderful!! I saw lots of my favorite critter....frogfish and cephlapods.
Giant froffish
Hairy striated frogfish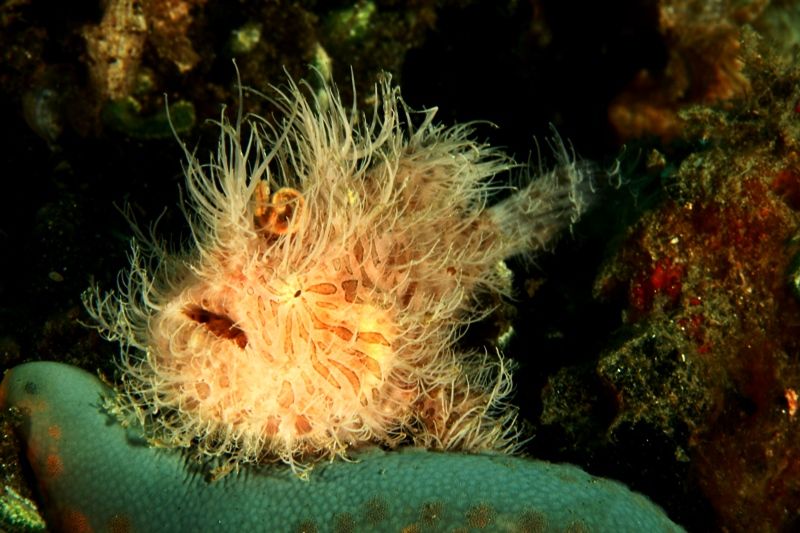 Painted frogfish