I would love to sale this uber nice photo/video set based on top notch products in this class. Aquatica, Canon, Gralmarine, UCLS.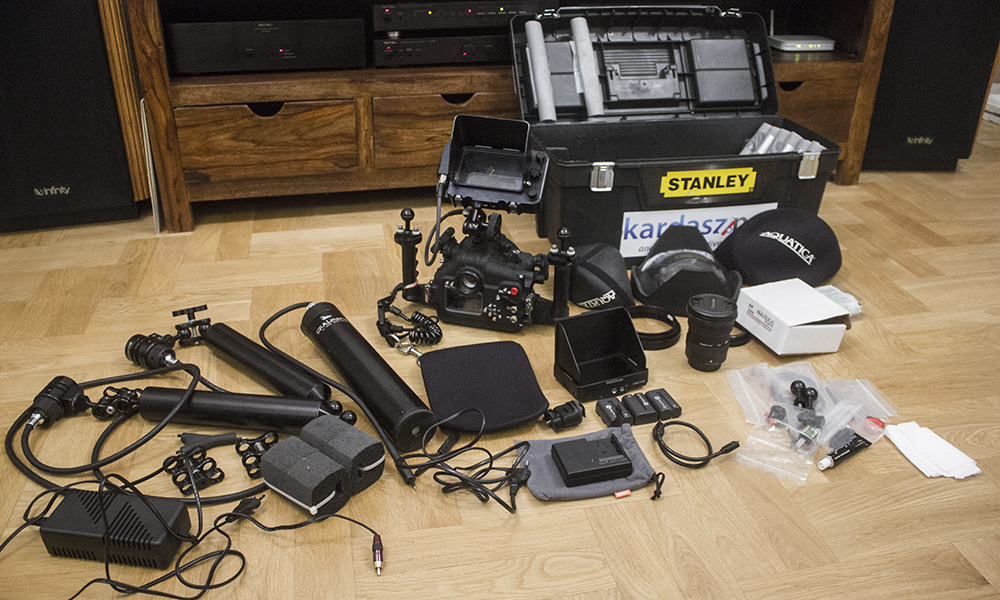 Whats in the box 

Aquatica t2i/550d housing for Canon DSLR: http://aquatica.ca/e...s_dslr_t2i.html
8 inch dome port with Shade Cover, plus two neopren covers – small and big.
Port extension rings for Tokina 11-16 and Tokina 10-17. Two best lenses for UW use in small frame DSLR.
Rings products numbers in Aquatica are: 18453 i 18456. They fit more than those two lenses, just check the chart: http://aquatica.ca/e...anon_type_2.pdf
Underwater housing for Wahoo HD Monitor from Backscatter: http://www.backscatt...bs-003-aq.lasso
The screent is conected via HDMI port.
Inside the housing is the Sony external monitor. It comes with everything that was in the set plus more: 3 batteries!! shade cover, cable, charger, bag ets.
Float arms from UCLS, 14 inch x2, plus all balls and clamps to connect. Plus 2 floats from STIX.
LED video lamps from Gralmarine 2x 70w. 2x 8400 lumens.
Battery 15 AH to put on belt.
Lamps are connected with EO cords with Y-connector. U can use them for heating.
I will also send You everythnig that I have, spare orings, spare balls, silicon, dome port polishing paste, etc..
If You want I will sell the camera with lenses:
Tokina 10-17mm f3.5 – best fish eye on the market for that type of camera – it is not on the picture, but it comes with the set!
Tokina 11-16mm f2.8 - best wide angle lens.
Body Canon 550d – I`m taking this pictures with it. Everything is in perfect condition except the camera, as I was using it on regular basis. So It works like new, but not looks like new 

Stanley box.
Everything (except the canon body) is in perfect condition. I bought it in 2012. Only one thing was changed, one housing lock was replaced with new one. This is only thing differnet from the new one. there are some scratech here and there on monitor housing and on camera housng but only in terms of estetics.
If You pair the dslr with Magic Lantern http://www.magiclantern.fm/ you get an excellent setup.
The price for this was about 6500eur  without tax! when it was new.
Price: full set: 4000eur. If You buy the full set I will send You Divers of the dark book as an inspiration 

OR:
Housing, dome port, wahoo monitor: 2600 eur
Lenses: 430 eur/each
Lamps, clamps, battery, arms: 850 eur.
Will ship from Warsaw. Or You can pick it up from Krnica or somewhere where in Europe where I will try to arrange the shipping. 

piotr@kardasz.net t: +48 886 886 557
Check my website for more pictures: http://www.kardasz.n...photovideo-set/